The Literary Cat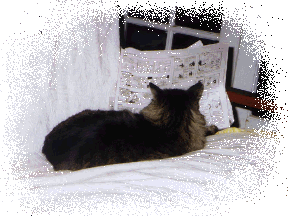 Contrary to popular belief (and the photo above excepted), I do not spend all my time poring over Garfield and Dilbert cartoons (although Catbert is a great role model--I keep a plush version of both Catbert and Dogbert on the monitor of my computer for inspiration). I also enjoy serious literature and detective novels, my favorites naturally being those works with distinctive and inspirational feline characters.
Recently, I discovered the works of Janwillem van de Wetering, a Dutch-born writer who lives and writes in the United States. He has a wonderful series of novels centering around two Dutch detectives names Grijpstra and de Gier.The books are top-rate murder mysteries, described by one critic as "doing what Simenon might have done if Albert Camus had sublet his skull." A bonus feature of the novels is the fact that de Gier is a cat-lover extraordinaire. His feline companions weave their way through the stories in just the way cats weave their way through the lives of their people.
Another writer I enjoy (also a recent discovery) is Steve Erickson, an outstanding contemporary novelist. His works are adventurous and entertaining. Thomas Pynchon describes his writing as having "...that rare and luminous gift for reporting back from the nocturnal side of reality..." Erickson has the ability to transport his reader into the experience of the book, in much the same way that Faulkner had. To my delight, his first novel, Days Between Stations, opens with a lovely passage about a woman who, as a child in Kansas, had the ability to call cats forth. This motif is repeated throughout the book. I will leave it to you to discover its meaning. For me, it is enough that there are cats.
The Artistic Cat * The Literary Cat * The Musical Cat * The Social Cat

---
Literary Links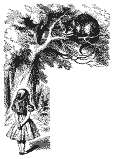 wonderful book. This contains one of the greatest cat characters in all of literature.