The Social Cat
Contrary to rumor, cats do often enjoy the company of others. Here are some of my favorite cats and creatures.
| | |
| --- | --- |
| | |
| James is one of my very best pals. I really love to follow him around. | Cinders is the first cat I got to know after moving to L.A. She was a beautiful but aloof Russian Blue. |
| | |
| Rockie was a good friend of my pal, James. | Fraidy Cat is Rockie's favorite cat. |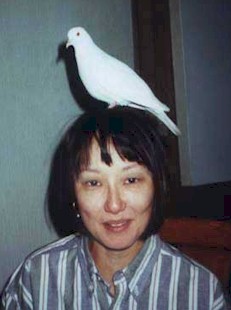 In addition to James, the other two important creatures in my life are here. The human creature on the bottom is my person. I've been all over the country with her. (I moved from Oklahoma to Louisina to live with her. A few years ago, she put me on an airplane and brought me to California with her. I really don't care at all for travel. I'm very much a homebody.) The creature on top is The Bird The Bird was the first bird I ever knew personally, and we were very happy housemates for over a year.
I have many other friends, too:
Meet my friends, Kimberly and Melissa.
And some new friends, BB and Creamy from Hong Kong!
I also have a nice photo album with pictures of relatives and friends. Please take a look.
The Artistic Cat * The Literary Cat * The Musical Cat * The Social Cat
Photo Album

---
Animal Lover Links
Midwest Animal Shelter This is a no-kill shelter, rescue and adoption service for cats and dogs. If you know of similar sites, please send me the URLs.
Chez Inwap Fellow cat-lovers can meet Murdock and his friends here. This site is a lot of fun.
Kitty Cam Kitty is the office cat at JoinSolutions. Her people have set up a live cam where you can see Kitty in action!