Eddie Cochran at the Moonlite Gardens
Wichita, Kansas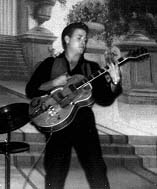 It was a November night in 1959 that Eddie Cochran played his last one- nighter before leaving the U.S. on his final personal appearance tour. I was thrilled to see Eddie again. I'd seen him on tour with Johnny Horton a year earlier. that was the first time I'd heard "Somethin' Else," which was released later that year in Wichita, Kansas. "Somethin' Else" made it up to number three on KSIR, the local radio station. Dennis Hunt, the local teen d.j. and rocker was a real Cochran fan. He always sang Eddie's songs at the Saturday night sock hops and, as expected, he was the host on this night of the Eddie Cochran Show. Hunt, singing in a very Elvis-like style, entertained for approximately an hour before The Hollywood Swingers took over. What a fantastic night at The Gardens this was (The Gardens was a skating rink-come-dance hall on Saturday nights. Many rock and rollers played there, including The Rockin' Tones and Gene Vincent.)
Of all the bands I've experience, I still believe The Hollywood Swingers were the heaviest.
The Guitar

A pimple-faced juvenile blond with a very in-the-groove look about him.

The Bass

A George Raft gangster picking notes with his index finger, electric bass slung mid-thigh, chewing gum the whole time, heels on, toes off, legs spread wide, rocking back and forth.

The Piano and Sax

Very straight, but despite this handicap, they managed to contribute to the show.

The Drummer

Sang a few songs, sittin' on the bass drum, chewing gum.
It was a very together-type of sound, the total sound transferred to image would be a head-on steam roller. Like I said, it was a very heavy sound. They did all of the big instrumentals that all the groups did in those days: "Honky Tonk," "Raunchy," "What'd I Say," "Movin' and Groovin'." I requested Dale Hawkins' "Cross Ties," but the bass player said the song was too dead. My first recollection of Eddie that night was that he seemed rather short as he weaved through the crowd to the stage. Up on the stage, I saw the make-up. Underneath, I imagined his face a bumpy tangerine. Actually, it was baby-smooth and sort of plump.
Dennis Hunt was back on stage and gave a small introduction as Eddie put on his guitar and tuned it. All the while, the bass player was building up the intro to "C'mon Everybody." Then, with a nod from Eddie, the drummer cut in and that beautiful orange "Kelly Green" guitar and the whole lot of The Hollywood Swingers were off, solid, behind their leader, with new life and vigor.
Everyone stood in awe as one of the hardest rockers of all time laid down one of the hardest songs ever. Spitting, squinting, staining until the veins in his neck seemed about to pop, he sang "Kansas City," "Twenty Flight Rock," "Summertime Blues," "Sittin' in the Balcony," "Milk Cow Blues," "Hallelujah, I Love Her So." He introduced "Three Steps to Heaven" as soon- to-be-released. I noticed his black pants and shirt, with a red velvet vest (he had several of those vests in assorted colors for his stage shows).
Almost every time he'd finish a song, he'd brush back the lock of hair that dangled in front of his face. He cut into "Somethin' Else" and the kids went wild. Man, I did. "She's sure fine lookin', man," he sang, and at this point Eddie straightened up, tugged on the ends of his collar, shrugged. "Wow!! She's somethin' else!" BAM-BAM-BAM-BAM-BAM-BAM-BAM-BAM-BAM- BAM-BAM-BAM.
He did "Drive-in Show" without his guitar. Then with a short word about the death of Chuck Willis, he sang "What Am I Living For." During this song, the only downer of the evening occurred: some clown threw a penny on the stage. Eddie ignored the first one, but with the second, he stopped the band and said, "If you're looking for trouble, I'll meet you out back after the show." When no one replied, Eddie grinned and went back into the song.
He sang other great songs that night: "Don't Ever Let Me Go," "Cut Across, Shorty" (this was the first time I'd ever heart it), and "Boll Weevil." We all loved him. He put on a great show, supported by a hard, professional band. Then, after one encore of "Summertime Blues," Eddie was gone.
He died five months later, on Easter Sunday, April 17, 1960.
Bill W. Fergusson III
Back to Cochran
Web page graphic design by Type Arts.